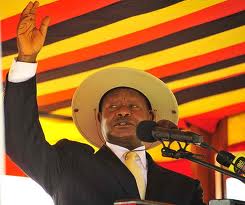 Africa must not allow terrorism to exist on the continent.
Speaking in relation to the terror attack on Kenya, President Yoweri Museveni says that as long as terrorists are allowed to have havens here, they will remain a serious threat to the continent.
He cites Somalia and Eastern Democratic Republic of Congo where armed groups have caused mayhem leading to loss of lives and displacement of thousands.
The President was addressing the summit of the African Union Peace and Security Council convened by H.E Alassane Ouattara of Cote d'Ivoire.
On the situation in Egypt, President Museveni called upon the African Union to maintain the principle on unconstitutional changes of government in dealing with the situation in Egypt.
The meeting was aimed at reviewing the partnership between the United Nations and the African Union in the area of peace and security especially in Somalia, DRC and Mali and issues to do with the unconstitutional changes of government in Egypt.