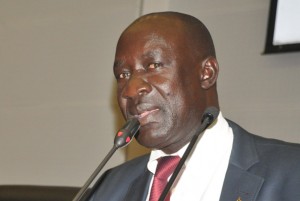 The government has assured the country that the refugee crisis in Uganda is under control.
State Minister for Refugees and Disaster Preparedness Musa Ecweru says government has set up mechanisms to ensure the country is not infiltrated by wrong elements.
He reveals that the total number of refugees now is 317,000 but quickly adds that there are enough supplies to take care of the refugees for at least the next three months.
He however says various challenges remain including poor sanitation, inadequate water supply among others.
Meanwhile, the Office of the Prime Minister together with partners have embarked on an immunization campaign covering refugees and their immediate host communities.
This has been revealed by the state minister for refugees Musa Ecweru who says the immunization is against polio, Measles and will also include provision of vitamin A supplements.
This has been done to prevent possible spread of such diseases since in such countries there is no immunization regime against these diseases.
Ecweru says the campaign is to target all children under 15 years and will later be spread out to cover the entire region as he elaborates.
Refugees from South Sudan and DR Congo continue to flock Uganda fleeing fighting in the two countries