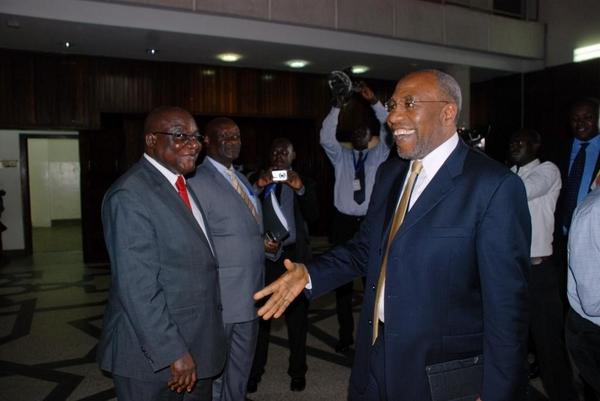 Parliament has this afternoon approved the appointment of Dr. Ruhakana Rugunda as Prime Minister.
MPs across the political divide voted for the motion with 217 out of the 225 voting in favor of Rugunda.
Voting was done by show of hands to attain the 50+1 constitutional requirement for the approval of a PM.
This was after the Speaker Rebecca Kadaga okayed his approval following a petition presented earlier to her office, in which Dr. Rugunda was accused of misappropriating funds for the National consultative Forum.
Kadaga however told the MPs that her office had carried out consultations with investigative bodies like IGG and police which cleared him of any culpability.
The Speaker congratulated the new Prime Minister and asked him to keep communication open with all other institutions in the political arena.
Speaking after his approval, Rugunda said greater emphasis will be on transparency and accountability for public funds.
Former Premier Amama Mbabazi described Dr. Ruhakana Rugunda as the right choice for the job saying he has shown the drive to excel.
He was speaking as Rugunda appeared before the house for approval of his appointment.
Earlier, the motion for Rugunda's approval was moved by the Vice President Edward Ssekandi and seconded by Defence minister Dr. Crispus Kiyonga, Mathias Nusbuga, Sam Otada & James Akena. Other seconders are Ruth Lemetia and Amoding Monicah.
While seconding the motion Defence Minister Kiyonga told the House that Rugunda's leadership skills started way back as the President of National Students Union.
Earlier parliament's appointment's committee vetted the Deputy Inspector General of Police Martin Okoth Ochola for another term.
His boss General Kale Kayihura is expected before the committee next week.