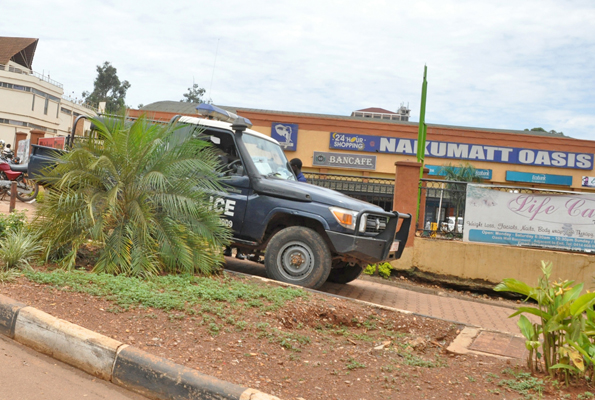 Ugandan security agencies are on high alert following the Saturday terrorist attack on a shopping mall in Nairobi, Kenya which left 68 people dead by press time and over 200 injured.
The UPDF spokesperson, Lt Col Paddy Ankunda, told the Daily Monitor yesterday in a phone interview that intelligence units the country's border points have been put on alert to ensure that no intruders enter the country.
"What we don't want is to take anything for granted. We are on high alert. We have put our border intelligence on alert," Lt Col Ankunda said.
Several attempts to get an official statement from the police were futile although sources within the criminal intelligence and counter terrorism units indicated that they had increased deployments around shopping malls, hotels and government installations.
The region has been in shock after a group of armed terrorists attacked Westgate Shopping Mall in Nairobi and started shooting at shoppers.
The terrorist group al Shabaab later claimed responsibility for the attack, citing Kenya's involvement in the African Union mission in Somalia.
Al Shabaab is the same group that claimed responsibility for the July 11, 2010 twin attacks in Kampala that left close to 80 people dead and hundreds injured.
The two spots in Kabalagala and Kyadondo were playing host to hundreds of football fans watching the final of the World Cup between Spain and Holland.
Kenya's President Uhuru Kenyatta at a press conference said that the operation to get the terrorists, who were still holed up in the massive building, was underway.
Kenyan troops, joined by Israeli commandos, launched an assault on Sunday evening to end the more than 30-hour siege by Somali militants, with police warning that the death toll of 68 people could rise "much higher."
In a statement sent to media houses yesterday, Information Minister Rose Namayanja noted that a Ugandan had been "affected in the shooting" but did not offer details. Efforts to seek a clarification were futile as we could not get her on phone.
The minister also condemned the attack and expressed Uganda's solidarity with Kenya.
"Uganda condemns in the strongest terms the barbaric, primitive and cowardly terrorist act…It is a misguided act of desperation designed by evil elements to divide the people of Kenya and break the country's resolve and to support the global anti-terrorism fight and the on-going UN stabilisation Mission in Somalia," she said.
Kenya is the main transit corridor for Ugandan goods and challenges that affect it impact on the Ugandan economy.
LIVE STREAM: Nairobi terror attack