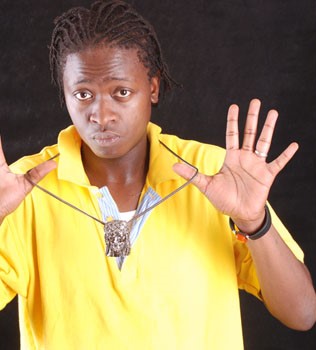 Police are treating Dejavu pub in Kansanga as a crime scene.
The pub has been cordoned off following the mysterious death of Musician Emmanuel Mayanja, also known as AK 47.
AK fell in the pub's bathroom last evening and died on shortly on arrival at Nsambya hospital.
Speaking to KFM, the Kampala metropolitan police spokesperson Patrick Onyango said that the deceased was found with a cut on the head prompting further investigation.
At Dejavu, one police officer is seen at the entrance and journalists have been restricted.
AK 47 aged 25 died last night after slipping in a bathroom.
He is the younger brother to singer Jose Chameleon who has described his death as a great loss to the family and the entire music fraternity.
The body is now lying at Mulago hospital but no relatives have so far turned up.
The Officer in charge of Kabalagala police station Benon Mugerwa has also given an account of what transpired last night.
Mugwerwa says they were called in at around 10.30 pm with information that AK47 had collapsed and died in a bar.
He says by the time they reached the scene, the victim had already been taken to Nsamby hospital.
He says they have launched investigations into the matter.
Well, last evening AK47 was in the company of a number of his friends, who are also musicians. I spoke to Grace Sekamate, a friend of the deceased who shares with us what happened in the last moments of AK47's life, and how the family is taking this.
The body will be taken to the national theatre from 2pm to 5pm today,
Later it will be taken to his father's home in Seguku Katale, along Entebbe road.
There will church service tomorrow at Lweza cathedral.