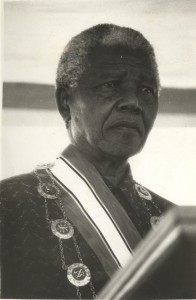 South Africa's first black president and anti-apartheid icon Nelson Mandela has died.
Mandela died on Friday morning at the age of 95.
He led South Africa's transition from white-minority rule in the 1990s, after 27 years in prison for his political activities.
He had been receiving intensive medical care at home for a lung infection after spending three months in hospital.
Announcing the news on South African national TV, President Jacob Zuma said Mandela was at peace.
Zuma said Mandela – who is known affectionately by his clan name, Madiba – had died shortly before 3am.
He said he would receive a full state funeral, and flags would be flown at half-mast.
Crowds have gathered outside the house where Mandela died, some flying South African flags and wearing the shirts of the governing African National Congress, which Mandela once led.
The Nobel Peace Prize laureate was one of the world's most revered statesmen after preaching reconciliation despite being imprisoned for 27 years.
He had rarely been seen in public since officially retiring in 2004.
He made his last public appearance in 2010, at the football World Cup in South Africa.
His fellow campaigner against apartheid, Archbishop Desmond Tutu, said he was "not only an amazing gift to humankind, he made South Africans and Africans feel good about being who we are.
Mandela's life:
1918 Born in the Eastern Cape
1943 Joined African National Congress
1956 Charged with high treason, but charges dropped after a four-year trial
1962 Arrested, convicted of incitement and leaving country without a passport, sentenced to five years in prison
1964 Charged with sabotage, sentenced to life
1990 Freed from prison
1993 Wins Nobel Peace Prize
1994 Elected first black president
1999 Steps down as leader
2001 Diagnosed with prostate cancer
2004 Retires from public life
2005 Announces his son has died of an HIV/Aids-related illness.