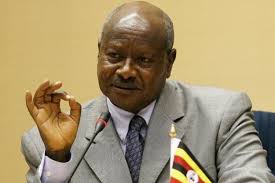 President Yoweri Museveni is not a war monger, according to the Speaker of the South Sudan parliament.
Manaseh Magok Rundial's remarks follow claims by some civil society organizations in South Sudan and other groups in Uganda that Uganda's involvement in the conflict was meant to intensify the war.
Meeting members of the defence committee of Uganda's parliament last evening the speaker Manaseh Magok Rundial said the president's decision to deploy was not personal but was in response to a request by his South Sudanese Counterpart Salva Kiir.
Magok further said that what was done is what was expected of any good neighbor describing those war monger claims as misconceived.
This comes a day after South Sudan's government and rebels signed a ceasefire agreement after talks in Ethiopia.
Under the deal, signed in a hotel in the Ethiopian capital Addis Ababa, the fighting is due to come to an end within 24 hours.
A ceremony to mark the signing of the agreement on the "cessation of hostilities and the question of the detainees" took place at the hotel where the talks were hosted.
The agreement is thought to address the issue of 11 detainees whom the rebels wanted freed, and whose fate had previously left the talks deadlocked.
The talks have now been adjourned and are due to continue on 7 February.