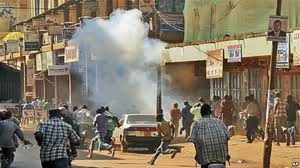 The police in Kampala have blocked a teachers' procession.
The teachers were moving from Teachers' House along Bombo Road in Kampala towards Statistics House where they are set to meet their leaders and the education minister over the ongoing strike.
However the police led by the DPC Wandegeya Polcie station Julius Tusingwire have moved swiftly to block the teachers.
The over 200 teachers are now demanding that government provides them with transport to the venue of the meeting or the minster addresses them from Teachers' House.
The Secretary General of the Uganda National Teachers' Union tells KFM that they will not give up the fight for better remuneration.
The teachers' strike that gets into the second week was called after government failed to fulfill its promise of a 20% salary increment.