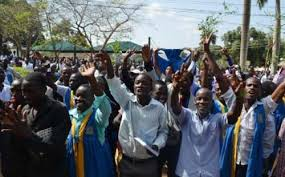 The situation at Kyambogo University remains tense.
The students have attempted to set ablaze one of the buildings in the university. However, the fire has been put out before it could spread further.
Meanwhile, the Police continue to engage in running battles with students who this morning stormed the senate building demanding for lectures.
The DPC Jinja road police station, Wesley Nganizi says they have managed to deploy around the university and all entrances to the institution now restricted.
However the students maintain that all they want is to attend classes or be sent home.
This comes as the lecturers strike continues. They are protesting the return of Prof Isaiah Ndiege as Vice Chancellor.
 They accuse him of mismanaging the university, claims he has often denied.