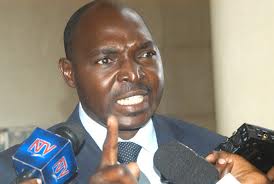 Buyaga West MP Banabus Tinkasimiire is challenging the composition of the NRM disciplinary committee.
He is among the four MPs accused of going against the party's positions in parliament.
They are also accused of hobnobbing with members of the opposition.
The committee comprises Al-haji Moses Kigongo as its chair person, Prof. Mondo Kagonyera, Amama Mbabazi, Dr. Beatrice Wabudeya, Dorah Byamukama, Lillian Oumu and Adolf Mwesigye.
Tinkasimire says the party constitution prohibits a public servant from
interfering with party issues and therefore the committee composition its self is against the party laws.
He says that unless the public servants are removed from the committee he will find it difficult to appear before the same.
The accused MPs are Wilfred Niwagaba (Ndorwa East), Barnabas Tinkasimire (Buyaga West), Theodore Sekikubo (Lwemiyaga County) and Muhammed Nsereko (Kampala Central).