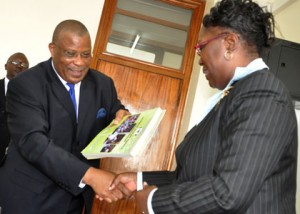 The Uganda Human Rights Commission has released its 15th annual report indicating a decline in cases of rights violations.
The 2012 report handed to the Speaker of Parliament this morning shows a 31% decline in the number of registered complaints compared to 2011.
According to the commission chairman Medi Kaggwa, they received 2,725 complaints, 706 of which were new.
He says the commission also fully investigated 789, with 12 of them initiated by its own staff.
Kaggwa noted the top three forms were violation freedoms & torture, inhumane treatment as well as violation of rights to child maintenance.
The Speaker of Parliament Rebecca Kadaga has received the report and referred it to the committee on human rights.
She also expressed disappointment over the failure by the Family Division Court to perform, blaming it for some of the reported cases of rights abuse especially in homes..
Meanwhile, the Commission has appealed to Parliament to ensure that the legislation passed do not violate human rights standards which the government has committed to.
The call comes at a time when parliament is debating on the controversial Public Order Management bill and the Marriage and Divorce bill which have raised a lot of reactions from the public.
The chairperson of commission Medi Kaggwa said that the commission is always available for any technical assistance to parliament and therefore there is no reason as to why parliament should come up with a law that violates human rights.
He said that as the commission together with other stakeholders they developed the demonstration guidelines and this should form the basis for the public order management bill to avoid controversy.
He however said that marriage and divorce bill was handled poorly yet it has some good elements in it.