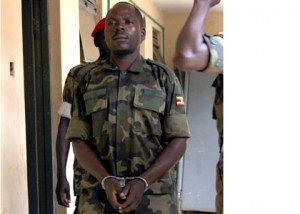 The trial of a UPDF soldier accused of opening fire in a bar, leaving 10 people dead kicked off today.
Court has heard that Private Patrick Okot  had had a disagreement with one of the people he killed.
This was revealed by the head of the prosecution team Fredrick Kagwaamu.
Kagwamu told court that Onesmus Aduri had reported Okot to authorities accusing him of defiling her daughter.
This annoyed Okot who stormed the bar and killed 10 people including Aduri and his wife.
Meanwhile prosecution has also produced a one Sgt. Godfrey Nyimarima who testified, in support of the prosecution's case.
Nyimarina said that on the 8th of March while at a bar in Bombo, he had gunshots and rushed to the scene and found people lying on the floor.
Okot is accused of murder, attempted murder and aggravate robbery and abusing a fire arm.
Hearing of the case continues at Bombo Health Center near the scene of crime.