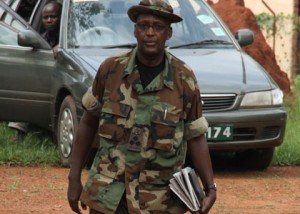 Former Spy Chief Brig. Henry Tumukunde will have to wait a little longer to know his fate.
This is after the case against him was adjourned to February 28th.
Tumukunde is accused of spreading harmful propaganda. He also faces another charge of conduct prejudicial to order and discipline.
Meanwhile Tumunde's defence team has today been beefed up.  Macdusman Kabega has joined Oscar Kambona to call for the acquittal of the former spy chief.
In his submissions, Kabega said that Tumukunde was a member of parliament representing the army and made the remarks in that capacity.
Kabega also says that prosecution failed to place his client to the scene of crime since no witnesses came from the local based radio station from where he is alleged to have made the utterances.
He also says that his client has been tortured by delaying the case for 8 years with no critical witnesses proving that Tumukunde actually made the alleged statements.
The case has now been adjourned to the 28th of February to allow prosecution to respond to submissions by the defense team.