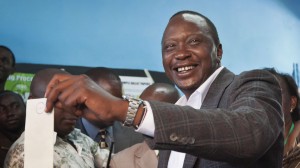 Uhuru Kenyatta has taken oath of office to become Kenya's fourth president.
The oath was administered by Judiciary Chief Registrar Gladys Shollei and witnessed by Chief Justice Willy Mutunga at 1.00pm.
The colorful ceremony attended by at least 11 Heads of States is under way at the country's biggest sports facility, Moi International Sport Centre Kasarani.
The swearing in ceremony that has been organised by the Assumption of the office of the President Committee  is constitutionally required to take place no earlier than 10am and no later than 2:00pm.
Accompanied by his wife Margaret, the new president used the Bible that was used by his father in 1963.
Uhuru was then presented with a duly signed certificate of inauguration, which he waved amid roaring cheers from jubilant crowds gathered at the Moi International Sports Centre- Kasarani.
He was then handed with instruments of power – a sword and a copy of the Constitution by the out-going President Kibaki.
The sword represents his take over as the Commander in Chief of the Armed Forces of the Republic of Kenya.
Uhuru's mother Mama Ngina Kenyatta who saw a second family member take office inside 50 years witnessed the ceremony.
The ceremony was spiced with military full regalia parade and new presidential standard navy blue flag and a 21-gun salute.
President Yoweri Museveni has delivered a key note address on behalf of all the invited heads of state.
He has congratulated Kenyans upon holding a peaceful election and the Kenyan media for exhibiting a high degree of independence and professionalism.
He has also saluted the Kenyan voters voters for rejecting what he described as the "black mail " of the International Criminal Court.
The Heads of State in attendance include Somali President Sheikh Mahmud, South Sudan President Salva Kiiir, Zimbabwe's Robert Mugabe and all the EAC leaders.
Others are South Africa's Jacob Zuma, Rwanda's Paul Kagame, Nigeria's Jonathan Goodluck and DR Congo's Joseph Kabila.