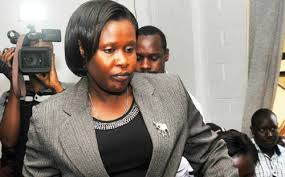 The minister of education and sports has instructed the Uganda National Examinations Board to withdraw center numbers from all schools implicated in suspected cases of malpractice.
Results of over 2,000 senior four candidates have been withheld due to suspected malpractice, while over 20,000 candidates failed completely.
Speaking after the official release of the 2013 UCE this morning, Jesica Alupo also revealed that government plans to recruit over 3,000 science teachers in the next financial year to help address the continued poor performance in science subjects.
This is after it again emerged that science subjects were among the worst done.
She has also revealed that the senior five selection exercise is to be conducted on March 6th and 7th while senior five students are expected to report for their first school term on March 17th.
Meanwhile, the ministry of education plans to request for Sh. 20 billion for implementation of the lower secondary curriculum.
Education minister Jessica Alupo said the National Curriculum Development Centre has finalized review of the curriculum and its set for implementation.
Alupo added that the funds will be used for recruiting teachers and procurement of instruction materials among other things.
She says this will improve the performance of the students at senior four level.