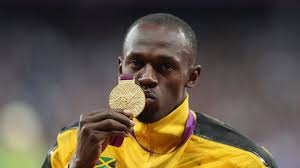 Six-time Olympic sprint champion Usain Bolt insists he is "clean" in the wake of failed drugs tests by fellow Jamaican athletes.
Asafa Powell and Sherone Simpson recently tested positive, as did American Tyson Gay, the fastest man in the world this year.
Bolt, who races at the London Anniversary Games, said: "I'm clean.
"I have broken every record there is to break in every event I have ever done" Usain Bolt
"But you have to be very careful as an athlete because right now there are a lot of things on the banned list."
The Jamaican added: "You have to keep up to date with this kind of thing. It's kind of hard, but that's why you have a team to make sure.
"I get tested all the while. I got tested the day before yesterday. It's just part of the routine. "
The 26-year-old 100m and 200m world record-holder pointed to his success as a junior athlete as evidence of his innocence.